For years I have seen photos and read articles about bow fishing but it never appealed to me. Why? I do not know! Maybe it was ignorance about the sport or just the unwillingness to try anything new. But now that I have my first bow fishing trip under my belt, I AM HOOKED! No pun intended!
I owe this eye opening experience to Captain Hal Newsome the owner and operator of the Cougar Run Ranches. Everyone knows about Halís great hunting operations and now it will not be long until everyone knows about Halís great bow fishing trips!
Hal contacted me and told me that he had just bought an airboat and was now taking hunters out on bow fishing trips. Hal asked me if I would like to go down to Anahuac Bay on a bow fishing trip. I said sure!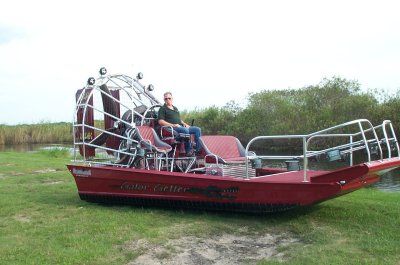 As I said earlier I had never had an interest in bow fishing but as soon as Hal asked if I would like to go, I began to get excited about the prospect of shooting fish with a bow.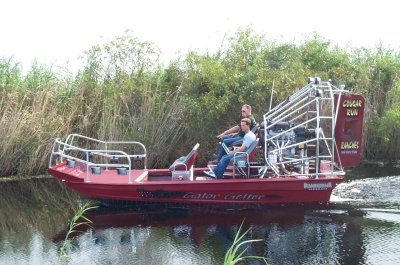 I did not have any of the necessary equipment needed to bow fish but Hal told me not to worry! Hal said he had bows already decked out and ready to go. All we needed to do was show up. It couldnít be any easier to get into bow fishing!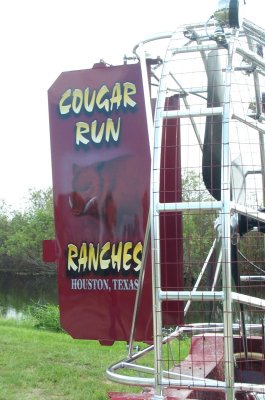 We met Hal and his son Jason at Anahuac Bay, TX. Hal and Jason both had airboats set up just for bow fishing and it looked like we were in for an exciting night.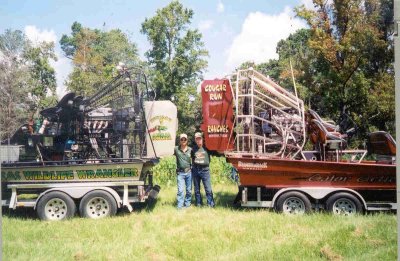 Jason had a boat full of hunters and we, (myself, Donna, Michael, and Morgan) loaded onto Halís boat. After a safety brief and instruction of how to use a bow fishing set up safely, we were on the way. We headed out on the bay just after the sun set. It was a beautiful summer night!
On the way to our fishing location we saw several alligators. We were able to pull right up to a few 4 foot gators and watch them swim a ways before they decided to dive and disappear.
After about a 30 min boat ride it was time to fish. I grabbed my bow and made my way to the front of the boat where the shooting deck was located. Hal cranked up the generator and turned on the 500-watt quarts lights that went around the outside of the boat. The water lit up like it was daylight and you could see all types of life in the water.
The water we were hunting in was as shallow as 2 inches. It was very clear and easy to see. Now that the lights were turned on it was time to hunt. As we cruised along we began to start seeing Alligator Gar. I started shooting at everyone I saw. I was shooting but not hitting a thing! I quickly learned that bow fishing was not as easy as I had first thought it to be. I could not even hit a fish that was a mere 3 feet from me. Hal had warned me that it would take a while to figure it out and he was right.
After about 50 shots I finally connected with a gar at about 20 yards. The fishing arrow smacked the gar and he began to flop in the water. I quickly reeled him in and tossed him in the bucket and reloaded my bow.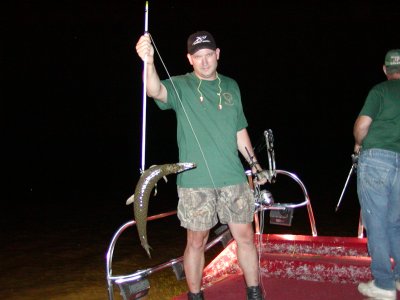 I had finally figured out this bow fishing thing and I did not want to miss the chance at another gar.
About half way through the night, we met up with Jason to see how his shooters were doing. Jasonís boat had already arrowed several huge White Ameire. I could not believe how big those fish were! After seeing those huge White Ameire, I knew that is what I needed to start looking for.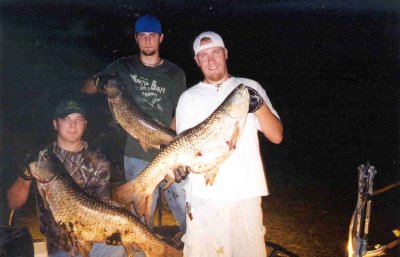 After some instruction on where to look for the White Ameire we were off to try to arrow our own huge fish. It was not long until another hunter on the boat arrowed the first huge White Ameire for our boat. This fish had to weigh around 30 or 40 pounds!
Michael decided he would try to bow fish now and he was flinging arrows at every fish he saw from a youth recurve. We got into so many fish we did not have enough shooters on the boat.
It was getting late and I knew I was running out of time to get a shot at a huge White Ameire. We slid across some marsh grass and I saw a huge tail fin waving in an opening of the grass. I swung around, drew my bow and released. The water exploded! I had just connected with one of those huge White Ameire! Another hunter on the boat put another arrow in the huge fish and we were able to get him on the boat. This White Ameire was another beast weighing between 30 and 40 pounds!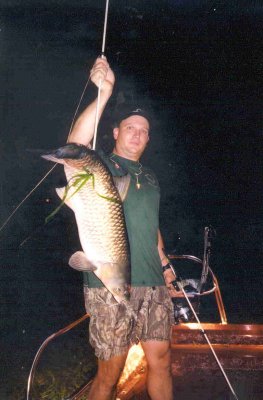 Before the night was over I stuck several more gar. We almost completely filled up the fish barrel that was on the boat!
2 A.M. arrived and it was time to head in. We had to make the 1 Ĺ hour trip back to the Cougar Run II so we could get a few hours sleep.
I have to admit I am hooked on bow fishing. I wish I would have not been so hard headed and got into this sport a long time ago.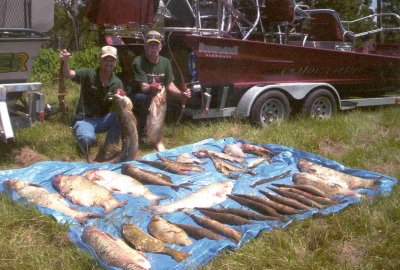 If you are interested in going on a great bow-fishing trip, give Hal a call. The cost of this trip is $175.00 a person. If you are hunting with Hal at one of his ranches, he will give you a discount on the bow fishing trip.
Until Next Time..................
Shoot Straight and Happy Hunting!
James Ferguson
This hunt was made possible in part by our sponsors:
Mathews, Inc. Bushlan Camouflage, Carbon Express,
The Gean-Edwards Company, Rynoskin, Trophy Ridge, VMASS, North Starr Tree Stands,
Shed Hunter Co., Fieldline, DoskoSport, Lumenok, Tru Fire Corp., Rocket Aeroheads, Quake Industries, Limbsaver
Double Bull Archery